PURPOSE
Our vision is:
A socially cohesive Aotearoa New Zealand where:
Te Ao Māori is strong and vibrant
The central place of Te Ao Māori in Aotearoa is understood and supported by all
We all feel confident and respected in our own cultures and heritage
OUR HISTORY

Our trust was set up in 2004 as Think Tank Charitable Trust by Kate Frykberg and Dave Moskovitz following the sale of their Internet development company, and we are slowly spending down the available funds.  We were fortunate to have the guidance of Jenny Gill as our first external trustee to help shape the trust and its workings.
In 2017 we changed our focus and priorities and we were gifted a new name, Te Muka Rau, meaning "the many strands."  This refers to how the many strands (muka) within flax (harakeke) can be woven together to create new, strong and beautiful possibilities.
HOW THE TRUST IS RUN

We are committed to co-leadership and to working in a way which honours te Tiriti o Waitangi.
Decisions are made by our board, which consists of two Māori trustees (Pekaira and Seumas) and two Pākehā trustees (Kate and Dave).  The running of the trust is shared between Kate and Pekaira.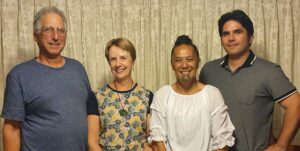 Pekaira Jude Rei
Pekaira holds a pivotal role for Mana Whenua within Te Upoko o te Ika (Wellington) where she maintains Cultural Advisory & support positions for Edmund Hillary Fellowship, Philanthropy NZ, Education Council & Office of Treaty Settlements at the Ministry of Justice. Education her passion, Taranaki history her flair, she connects and reconnects descendants to their unique Taranakitanga at her local Marae Te Tatau o Te Pō, she also teaches Te Reo Māori at Wellington Water. Born and raised under her Mounga Taranaki she often reflects on the solid foundation gifted by those she remembers.
Seumas Fantham
Seumas Fantham comes from Kaiti, Gisborne and has iwi affiliations to Ngāti Porou and Whakatōhea.  Seumas has been working with indigenous youth in New Zealand for over 18 years. He is currently a member of the Māori Advisory Committee (MAC) and a board member of Philanthropy New Zealand.  He is the Executive Director of the Todd Foundation, and also likes to keep in touch with the mahi on the ground as a volunteer for Te Ora Hou (an indigenous youth development organisation) and Special Olympics (sports programmes with people with intellectual disabilities).
Kate Frykberg
Kate was born and raised in Hawkes Bay and has South African, Swedish and British ancestry. She is an independent philanthropy and community consultant and an associate of Tūmanako Consultants.  Her  background includes co-founding one of NZ's first Internet Development companies (with husband Dave Moskovitz), working for ten years as CE of the Todd Foundation and serving as chair of Philanthropy NZ.  She is a former ASB Business Woman of the Year, holds a NZ Order of Merit for services to business and the community, and serves on several boards.   For more information see Kate's website and blog.
Dave Moskovitz
Dave works as professional director and investor, mainly with technology startups, and also serves on the boards of Metservice, Starboard Maritime Intelligence, and He Whenua Taurikura. He is involved in the Jewish community, and is a co-chair of the Wellington Abrahamic Council of Jews, Christians, and Muslims. For more information, see Dave's website and blog.
The trust is run on a voluntary basis, although, in recognition of the time involved, trustees have a choice of either receiving a small honorarium or the option to allocate one donation of $1,000 per year to a charitable cause of their choosing.
DONATING TO TE MUKA RAU
Te Muka Rau accepts donations from values-aligned individuals and organisations, and we are very grateful to a small number of regular donors and for a major donation from Te Tiriti educator, Jen Margaret from Groundwork: Facilitating Change, which has allowed us to increase our annual grant budget and our reach.
100% of donations to Te Muka Rau go directly to community initiatives as grants, and if you are interested in donating to Te Muka Rau, please contact us to kōrero, or simply click the donate button opposite.
OTHER INFORMATION
Our work fits broadly within two of the UN Sustainable Development goals:
Goal 10: Reduced inequality
Goal 16: Peace, justice and strong institutions
Financial statements and other statutory information are available on the Charities Services register.
For more information, please contact us.